Picture Framing
in different framings
Our Offers extend over wooden as aluminum frames of all styles, colors and sizes.
In our business, standard-sized frames are as obvious as special designed ones as well as the choice of different manufacturers like Aicham, Biedermann, Conzen, DEHA, Donau, Europa-Leisten, Larson-Juhl, Mittermeier, Nielsen, Roggenkamp and Schleicher.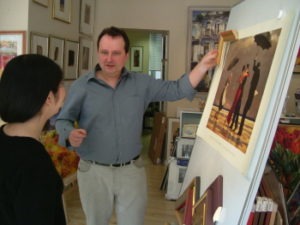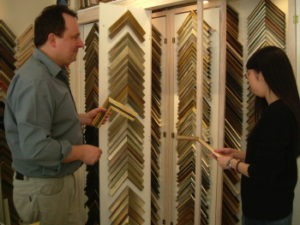 Conserving (dustproof) Picture Framing
In the event that your pictures hold an important tangible or intangible value, their preservation is a first priority.
Therefore we use acid-free materials like passepartouts and back walls in conserving picture framing to prevent yellowing. These are made for sticking glass, picture and passepartout together so that neither moisture nor dust particles can irrupt.
Special coated UV protection glass also makes an important contribution because it absorbs most of UV radiation brought by daylight and thus has a share to color fastness. Therefore we utilize Flabeg ArtControl® safety glass.